Cinderella

Princess Tea with Cinderella

Tea with Clara

Nutcracker School Show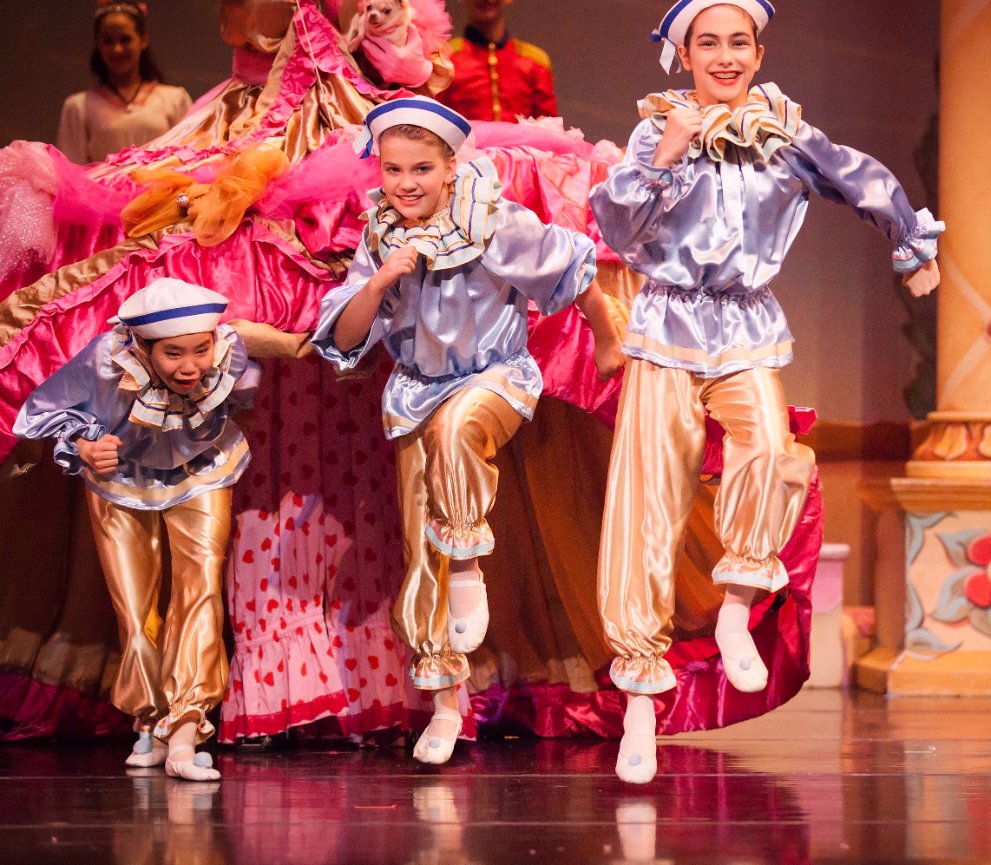 Bring your class to Greensboro Ballet's School Show version of

The Nutcracker

Friday, December 13 - TWO shows this year: 9:00-9:50am and 10:45am-11:35pm *Snow Date: Friday, 12/20

at the beautiful, historic Carolina Theatre

(Tickets for this event are NOT available through the Carolina Theatre Box Office. See below for more info.)

Open to Triad public schools, private schools and home schools.

Only $8/student or chaperone! Teachers FREE with 10 students.

A condensed 50-minute performance/program with special narration including
information about The Nutcracker story, Classical Ballets and Pointe shoes.

For more information or to check for reservation space, call 336-202-6386.

To download a 2019 Nutcracker School Show Reservation Form, click HERE.

#YOURCITYYOURNUTCRACKER

Special Thanks to BB&T for Sponsoring our 2019 Nutcracker School Shows!


Community Performances

Hansel & Gretel 2019

Nutcracker 2019

Cinderella Auditions




Open Auditions for Greensboro Ballet's Cinderella

What do I need to do in order to Audition for Cinderella?

1. Download a copy of Greensboro Ballet's Cinderella Rules & Regulations from the ballet office by clicking HERE. Read very, very carefully. Both dancer (and parent, if under 18) must sign this document and bring with them to the Audition. Please fill out our Dancer Measurement Form (click HERE) and bring it with you, as well.

2. At least one parent/guardian of each dancer that wishes to audition must attend our
Cinderella Parent Meeting. This meeting will be held in the GB studios on Wednesday, January 15th at 7:30pm. (There is a makeup Parent Meeting on Thursday, Jan. 16th at 7;30pm)

3. Bring your signed form to the Cinderella Auditions on Saturday, January 18th. Also, your Cinderella Costume Fee ($40) is due at the time of audition, as well. If your dancer is not cast, we will give you a full refund. (Helpful Hint: Arrive 15+ minutes before your start time!) Here are the times for each age group*:

10:30-12:30 pm Company Trainees & Int. Ballet 3/4 students, OR other students 13 & up, with 5+ years of ballet training. Females should bring Pointe shoes. Males should be prepared to possibly do partnering work.

1:00-2:15pm Int. Ballet 1 & 2 students, OR other students, ages 11 & up, with at least 3+ years of classical ballet training. This audition is for both females and males.

*For questions about which audition time your dancer should attend, call us at #336-333-7480 or send us an email at greensboroballet@yahoo.com **ONE make-up Audition is available for anyone not able to make the above Auditions: Thurs, Jan. 16, 7:30-8:30pm. Parent must still attend Parent Meeting.

Location for Parent Meeting & Cinderella Audition:
GB studios, 3rd floor of the Greensboro Cultural Center, 200 N. Davie Street, Greensboro, NC 27401.

NOTE: The performances of Cinderella will take place March 28 & 29, and our Students & Seniors Show will be on Friday morning, March 27th - all at the Carolina Theatre in downtown Greensboro.


The Nutcracker

Muttcracker

Outreach Programs

Auditions for Nutcracker

AUDITIONS for Greensboro Ballet's 2019 "The Nutcracker"
(Plus everyone that is cast will also be our fun "Mutcracker")
What do I need to do in order for my child to Audition for The Nutcracker?
1. Download Greensboro Ballet's Nutcracker Rules & Regulations HERE. Read very, very carefully. Both dancer and parent must sign this document and bring with them to the Audition. Please fill out our Dancer Measurement Form (click HERE) and bring it with you, as well.
2. At least one parent of each dancer that wishes to audition must attend one of our Nutcracker Parent Meetings. These meetings will be held in the GB studios on:
Wednesday, September 25 at 7:30pm or Thursday, September 26 at 7:30pm
3. Bring your signed form and dancer to the Nutcracker Auditions on Saturday, September 28th. Also, your Nutcracker Costume Fee ($60) is due at the time of audition, as well. If your dancer is not cast, we will give you a full refund.
(Helpful Hint: Arrive 15 minutes before your start time!) Here are the times for each age group*:
12:30-2:00 pm Company Trainees & Int. Ballet 4 students OR other students with 6+ years of ballet training.
2:15-3:15 pm Elem Ballet 2 & 3 OR other students with at least 1 year of classical ballet training.
2:15-3:15 pm BOYS, BOYS, BOYS, ages 6-13 (no dance training required, but helpful for some roles).
3:30-5:00 pm Int. Ballet 1, 2 & 3 OR other students with at least 3+ years of classical ballet training.
*For questions about which audition time your dancer should attend, call us at #336-333-7480 or send us an email at greensboroballet@yahoo.com
Location for Parent Meetings & Nutcracker Auditions: GB studios, 3rd floor of the Greensboro Cultural Center, 200 N. Davie Street, Greensboro, NC 27401
NOTE: This year's performances of The Nutcracker will take place December 14, 15, 21 & 22 and Muttcracker will be on December 20, all at the Carolina Theatre in downtown Greensboro.
Dog Auditions for Muttcracker will be Saturday, Nov. 2 at 3pm in our GB studios! More info coming soon.